What an adventure we had in Australia! Read part one here. Last time you heard from me, I was 'down under,' and the team from America had visited wine country, the Cleland Wildlife Conservatory, and had our first evening of Doll Lounge Talks at the Adelaide Hills Doll Guild Convention. The talks were one of my absolute favorite parts of this experience because I learned so much. Michael Canadas and David Robinson gave seven talks in total on a variety of subjects from history, to costuming, to doll repair tips. Tony Tanner aka "The Porcelain Guru" also gave two exciting programs on the history of porcelain and BJDs. Both were awesome!
I was delighted to share one of my favorite programs with the convention on Raggedy Ann - 'A Dolls Gotta Have Heart' which I think the attendees loved. I have a history with Raggedy Ann (I have always loved them!) so it is one of my passions to share the legacy of the dolls and Johnny Gruelle.
The next day, I met a fella that stole my heart down under! It was a very special moment to hold a Koala! His name was Kevin. Isn't he just special?! They are the cutest little animals - and are irresistible when they sleep which is 18 hours a day! Thank you to Lesley for taking us off on an adventure during the day to the Gorge Wildlife Park. You can see Michael Canadas feeding a camel here.
The day of the doll show was incredibly special because of the attendees who visited us. Many of the attendees of the convention and attendees of the doll show took the time to bring us heartwarming and thoughtful gifts, and we got to meet and chat in person. They were ALL just the BEST! I have never experienced such hospitality; it was wonderful. Here are some photos from the day. Here is a video I did earlier in the day walking around the show.
One of my favorite videos was with Lesley Cooke and David Robinson. So much fun to interview David and chat with the delightful Lesley who worked so hard putting the entire convention together.
And Michael Canadas was an amazing promotional model throughout the day for the Virtual Doll Convention. Thank you to attendee Melissa Turner for the fabulous Steampunk Boots which we used in merchandising our Helen Kish Dolls!
Gayle purchased my favorite doll in my booth! A gorgeous wood bodied Bru fashion in an amazing costume. I almost sold out my booth and THANK YOU so much to all my customers!
One of the BEST parts about attending a doll convention is the BANQUET! It's a treat for me to pull out all the stops and dress up for an event. All of the attendees were in their finest and we had a marvelous dinner plus dancing!
We also got to celebrate David Robinson's birthday with a GORGEOUS cake made by Jackie Bond's daughter. It was one of the prettiest ones I have ever seen - and it fed the whole room!
I can't think of anything that is better for the body and soul than DANCING! We danced all night long - and when the 70s hits came on, WATCH OUT! Michael and David have MOOOOVES!
We got up on time and were back at the doll show on Sunday for another amazing day filled with dolls, fun, and friends! I did a video check-in first thing!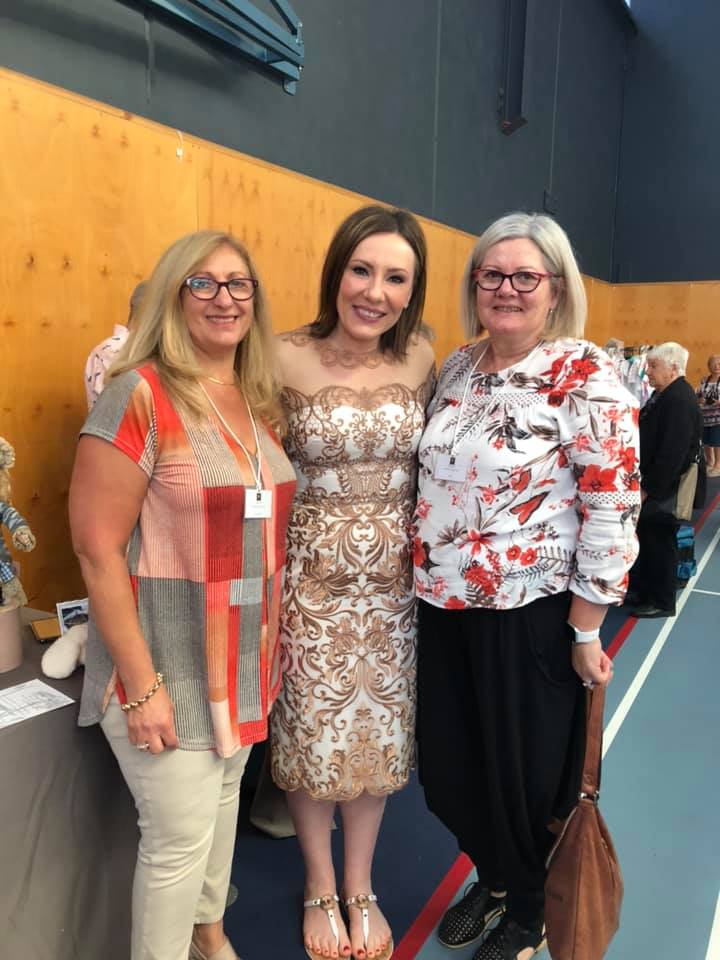 This grouping on the table that you see is just some of the gifts that I received from the attendees of the Australian Convention. It is hard to muster the words to describe what this past week has meant to me. So many of you traveled to meet me and the Doll Uncles, and join in an incredible week of dolls, friendship, and pure adventure. For many in attendance, it was their first Doll Convention. We know many traveled long distances, and saved up for the expense of attending, and we are entirely grateful for this. You are seen and appreciated so much by us.
For those that joined online - You were magnificent in your amount of shares and comments on our posts. All of which is deeply appreciated by us, thank you. Both in Australia and on Facebook, I was overcome with a real sense of belonging. I felt at home.
It was love that created my home this week. It was the connection between people that brought me there. It was knowing that near or far, we are home in each other.
With every comment, every share, every touch both in person and on the internet, home is home - with you. No matter where we may be or what we may be doing, or what time zone we are in. Home is home.
Home for me is not a place. It's people. It is you.
If you were here sitting next to me on my flight to Colorado, (and in your special way you are), I would remind you how special you are. Not because of anything you've done but because of who you are. Not because you wore the fanciest dresses or lived in the biggest house, or have the most expensive things.
You're special because you're you. There's nothing you have to earn in that. You're special because of your heart, how you treat others, and how you show up in the world. That's beauty to me.
That's home.
And from the girl behind the lens, wearing those dresses that you love, the girl that you keep cheering on, I can't thank you enough for doing this for me. We're a good team. I'm going to keep using my talents to the best of my abilities because I know we need each other.
Thank you for appreciating this life we have with me. And to the wonderful people of Australia, I can't wait until the next time I can join you for another Aussie Adventure. Thank you, thank you - all of you.
THANK YOU to the Adelaide Hills Doll Guild Convention for hosting us. I encourage you to join their Guild, Facebook Group, and attend their events.
In Love and Dolls,
Rachel Hoffman